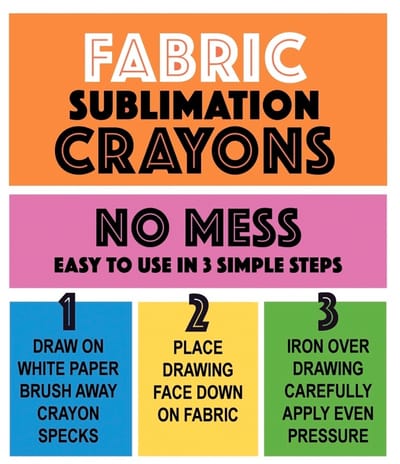 Fabric Sublimation Crayons look and feel like a wax crayon. This makes it suitable for all ages.
Create your own transfer print in 3 easy steps.
1. Draw a picture on to any white paper.
2. Place the drawing face down on fabric/garment of your choice.
3. Iron with a normal iron on dry hot setting for a 3-6 minute. 100% Cotton takes longer to fix the transfer than a Polyester fabric.
The heat transfers your drawing from the paper to the fabric. The heat is all it needs to transfer the colour and make it permanently part of the fabric. The garment can be worn immediately and is washable (preferably in cold water)
Crayons can also be used directly on fabric, then iron over drawing to fix it permanently.
You can buy the crayons on the next page Using PayPal.